Our mission at Crossbow Visual Stress Solutions is to raise awareness of Visual Stress within the workplace and help 1000's of people read and work at a computer with more comfort and better productivity. Visual Stress effects 1 in 5 people and can be the cause of headaches, migraines and time off work (click here to found out more about Visual Stress).
The Visual Stress Collection won SEN Product of the Year at the Educational Resources Awards in 2014 and provides resources to 70% of schools in the UK. We work with and use the research of Professor Arnold Wilkins from Essex University, who is the leading researcher on Visual Stress in the UK, for the basis of our products.
Visual Stress is relatively new research, meaning there are many people within the workplace who are suffering with Visual Stress unknowingly and think the symptoms they have are just the "norm". Helping people with Visual Stress in the workplace is simple, affordable and can make a huge difference to work life and home life.
We aim to do this with our expert knowledge and our Visual Stress Collection.
The Visual Stress Collection:
The Visual Stress Assessment Pack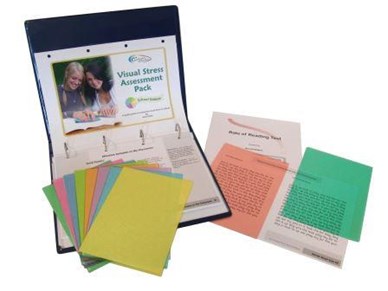 Our Assessment Pack is the quickest and simplest way of assessing someone for Visual Stress and to find out which coloured overlay will help them most. Each assessment takes between 10 -15 minutes. It includes Professor Arnold Wilkins Rate of Reading Test, which was specifically designed to test for Visual Stress. Also included:
Two sets of 10 (A5) Crossbow overlays in sturdy punched zip pockets
Testing pages for reading ability in two font styles and eight font sizes
Full easy to follow assessment instruction manual
Information on Visual Stress symptoms and treatment
Photocopiable recording sheets
Complete a half-day CPD accredited course to be qualified to assess for Visual Stress in the workplace using this assessment pack ***Enquire here link****
Tint and Track Software
For reading and writing through colour on screen.
Our software gives you a fully configurable screen overlay that works on top of all your normal programs, providing anything from a tinted bar to a whole tinted screen to aid reading and writing on the computer. Features Include:
Can be used with any application including internet browsers
Crossbow's 10 scientifically selected colours.
Alter transparency for comfort.
Type through the overlay.
4 Reading Ruler modes.
Fully networkable across all platforms.
Quick-start menu.
Auto-save settings.
It is very easy to install and use and can be put on a network. It has a simple to use control panel, you can change the colour, tint level, height, width and position on the screen. You can also click and type through the overlay.
Ideal when staff have to "hot-desk".
Two modes:
Reading Ruler mode:
Enables you to highlight your position on the screen when reading or writing, with optional tracking lines.
Moves with your mouse so no need to hold and drag.
The lock button allows you to lock the ruler keeping your position, freeing your mouse from the ruler to move around the screen.
Overlay mode:
Lets you chose a specific area of your screen to tint; place it and it stays.
Use the hot-corners to easily resize and move the Virtual Overlay.
Available as a portable USB stick. The software runs from the USB stick, meaning there is no installation needed onto the computer, and giving you flexibility to move between computers.
Currently only available for PC and Windows® tablets only.
Monitor Overlays: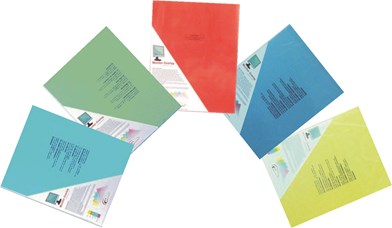 Some of the biggest complaints about working on a computer screen all day are headaches and sore and tired eyes. Our monitor overlays reduce the glare from white background and the glare from the monitor screen which is a cause for these symptoms, meaning they help with Visual Stress and Computer Vision Syndrome (please click here to find our more).
Our Monitor Overlays come in different sizes to fit all monitor screens. They are simple to use – they just lie flat against your monitor screen, using static electricity to stick. Available in 5 colours: Yellow, Green, Aqua, Sky, Pink.
Available in 17 inch, 19 inch, 21.5 inch widescreen and 24 inch widescreen.
Page Overlays

Our page overlays are available in 10 colours: Yellow, Celery, Grass, Jade, Aqua, Sky, Purple, Magenta, Pink and Orange.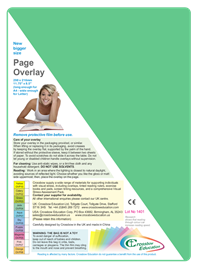 Really simple to use, remove from packaging, place over text and read.
Available in singles, 5 packs, 10 packs and mixed coloured packs.

Reading Rulers
Reading Rulers are very similar to page overlays, but are smaller and have either a tinted strip or a tracking line. Easy to keep clean and can be used a bookmark for storage.
Duo Reading Ruler – has a narrow tinted strip to use as a single like highlighter and tracking aid and a wide strip to scan ahead in the paragraph.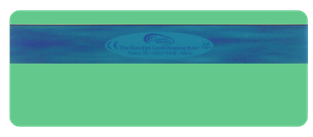 Plain Reading Ruler – has a fully transparent with tracking line at 1cm for underlying.
Available in 10 colours: Yellow, Celery, Grass, Jade, Aqua, Sky, Purple, Magenta, Pink and Orange.
Available in 5 packs, 10 packs and mixed coloured packs.
Visual Stress Relief Starter Packs
Our Visual Stress Relief Starter Packs include 1 x Duo Window Reading Ruler, 1 x Plain Window Reading Ruler, 1 x Page Overlay, 1 x A4 Tinted Refill Pad.
Available in 10 colours - Yellow, Celery, Grass, Jade, Aqua, Sky, Purple, Magenta, Pink and Orange.
Tinted A4 Paper
Visual Stress is not just struggling to read on a white background, it's also writing on a white background. Our tinted paper can be used to write on and to print off any paperwork.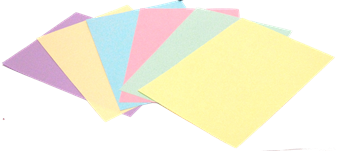 Available in Yellow, Apple, Aqua, Purple, Pink and Cream. 80 gsm
Each ream is 500 sheets.
Discounts available for buying more than 5 reams.
Assessments
One of our assessors can come to your offices and assess your staff for Visual Stress and provide them with the correct resources afterwards. Our assessment takes around 20-30 minutes per person using our Visual Stress Assessment Pack (please see below). Once the assessment is completed the assessee will have gained awareness of what visual stress is and how to make reasonable adjustments for visual stress e.g. monitor overlays, tinted paper, lighting and sitting position and what their optimum colour is.
Assessment are available at £50 per person, with discounts for larger groups.
Please contact us for further information